Who We Are
The Oregon Corinthian Sailing Association (OCSA), established in 1958 and later incorporated in 1975, is an independent non-profit organization whose purpose is to encourage and promote sailing events, with an emphasis on racing. OCSA's all-volunteer Board comprises representatives from yacht clubs of northwest Oregon and southwest Washington, who together plan the annual Race Calendar, and publish the OCSA Racebook and Course Charts. OCSA also develops race management skills by providing instruction for race conduct and management, and works toward better community awareness of sailing, water safety and the appreciation of sailing as a sport.
OCSA members are exposed to a variety of activities to suit their sailing interests, and receive the OCSA Racebook, OCSA Course Charts, special notices and discounts, and event invitations. For more information, please contact a Board Officer.
LETTER FROM THE COMMODORE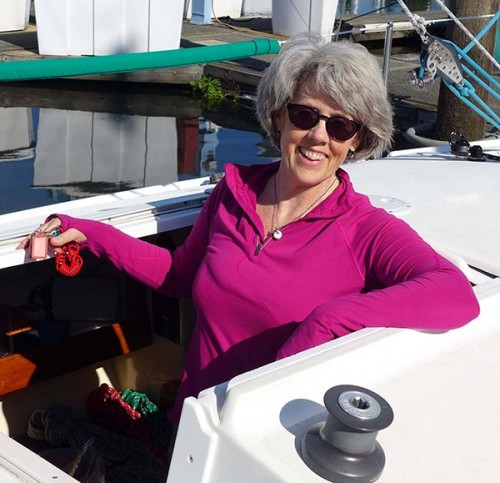 Greetings, fellow racers–welcome to the 2018 racing season!
I was pleased to be asked to be Vice Commodore last year, I am proud to serve as your 2018 OCSA Commodore, and I am looking forward to an exciting year of racing.
As I think about OCSA, I realize that I had only a general idea of the OCSA mission before last year. The OCSA Constitution states that, "The purpose of this association shall be to encourage and promote Corinthian sailing and to coordinate the sailing activities of the sailing clubs in NW Oregon and SW Washington." So what exactly does "Corinthian" mean?
Oxford English Dictionary defines it as "Involving the highest standards of amateur sportsmanship." When racing on the Columbia River with all of you, I see so many examples of exactly this and am proud to be part of such a community.
With the goals to increase participation, to enjoy more coordination between events, and to keep us all out on the water having fun, there are a few changes coming to the sailboat racing schedule this year. This includes:
A number of weekend events have moved around, so be sure to check the dates on the SailPDX calendar!
Beer Can Races have been moved to 5:00 pm on Saturdays (less traffic!!!)
SYSCO Evening Series:

Spring will start a week later than previously
Twilight will be held during Whidbey Island Race Week, which is four days only this year

Regattas: some changes have been made to the days of the week, month and sponsors
Picnics have been scheduled after the end of SYSCO's Summer Evening Series and Short-Handed Soaker
OCSA owes a debt of gratitude to its many volunteers. We would not be able to function without the time given by our OCSA Officers (Nicole Sirois, Steve Moshofsky & Mary Hartel), our SailPDX webmasters (Ailona Dundore & Gary Whitney), our Racebook designer (Patsy Verhoeven) and Racebook advertising coordinator (Anna Campagna), and all of the race captains, PROs and many others–too numerous to name. I also look forward to working with Jim & Lenny Severs, as OCSA Co-Vice Commodores, to ensure another terrific season of sailboat racing.
I feel very fortunate to be a sailor on the Columbia River. It is a great joy to be able to sail with such a wonderful and energetic community of fellow sailing enthusiasts. I hope the coming year brings great fun, learning and a positive sense of camaraderie to all.
Sail Fast and Fair Winds,
Kitty Church
2018 OCSA Commodore
OFFICERS
PAST BOARD MEMBERS
Click on a year to show officers from that year
Nicole Sirois
Commodore
Kitty Church
Vice Commodore
Steve Moshofsky
Treasurer
Mary Hartel
Secretary
Rich Calnon
Rear Commodore
Gary Bruner
Commodore
Nicole Sirois
Vice Commodore
Steve Moshofsky
Treasurer
Mary Hartel
Secretary
Rich Calnon
Rear Commodore
Rich Calnon
Commodore
Gary Bruner
Vice Commodore
Alan Bergen
Treasurer
Mary Hartel
Secretary
Anna Campagna
Rear Commodore
Anna Campagna
Commodore
Rich Calnon
Vice Commodore
Alan Bergen
Treasurer
Nancy Marshall
Secretary
Jeanine Hohn
Rear Commodore
Jeanine Hohn
Commodore
Anna Campagna
Vice Commodore
Alan Bergen
Treasurer
Nancy Marshall
Secretary
Kimberly Rimkus
Rear Commodore
Kimberly Rimkus
Commodore
Jeanine Hohn
Vice Commodore
Ailona Dundore
Treasurer
Mary Stainsby
Secretary
Mark McCuddy
Rear Commodore
Kimberly Rimkus
Commodore
Ailona Dundore
Treasurer
Mark McCuddy
Rear Commodore
Mark McCuddy
Commodore
Kimberly Rimkus
Vice Commodore
Ailona Dundore
Treasurer
Robert Neild
Secretary
Victoria & Timm Lessley
Rear Commodore
Mark McCuddy
Commodore
Kimberly Rimkus
Vice Commodore
Craig Daniels
Treasurer
Alice Patten
Secretary
Victoria & Timm Lessley
Rear Commodore
Victoria & Timm Lessley
Commodore
Mark McCuddy
Vice Commodore
Craig Daniels
Treasurer
Alice Patten
Secretary
Victoria & Timm Lessley
Commodore
George Yioulos
Vice Commodore
Jill Dahlstrom
Treasurer
Alice Patten
Secretary
Scott Wirs
Rear Commodore
Scott Wirs
Commodore
Stephen Estes
Vice Commodore
Diane Curtis
Secretary
Rob Waldron
Rear Commodore
Bob Waldron
Commodore
Scott Wirs
Vice Commodore
Stephen Estes
Treasurer
Diane Curtis
Secretary
Al Calcagno
Rear Commodore
Al Calcagno
Commodore
Bob Waldron
Vice Commodore
Stephen Estes
Treasurer
Marcie Fitzhugh
Secretary
Jeff Duvall
Rear Commodore
Jeff Duvall
Commodore
Al Calcagno
Vice Commodore
Mark McCuddy
Treasurer
Erika Packer
Secretary
Frank Colistro
Rear Commodore
Frank Colistro
Commodore
Jeff Duvall
Vice Commodore
Mark McCuddy
Treasurer
Erika Packer
Secretary
Nancy Kirk
Rear Commodore
Nancy Kirk
Commodore
Frank Colistro
Vice Commodore
Mark McCuddy
Treasurer
Erika Packer
Secretary
Dale Waagmeester
Rear Commodore
Dale Waagmeester
Commodore
Nancy Kirk
Vice Commodore
Joe Ellertson
Treasurer
Jacki McLaughlin
Secretary
Mark McPherson
Rear Commodore
Mark McPherson
Commodore
Dale Waagmeester
Vice Commodore
Joe Ellertson
Treasurer
Nancy Kirk
Secretary
Mike McNaughton
Rear Commodore
Mike McNaughton
Commodore
Mark McPherson
Vice Commodore
Arden Newbrook
Rear Commodore
Arden Newbrook
Commodore
Mike McNaughton
Vice Commodore
Nancy Rander
Treasurer
Patsy Fischer
Secretary
David Wilson
Rear Commodore
David Wilson
Commodore
Arden Newbrook
Vice Commodore
Holly French
Treasurer
Gale Marple
Secretary
Karen Owings
Rear Commodore
Karen Owings
Commodore
David Wilson
Vice Commodore
Holly French
Treasurer
Gale Marple
Secretary
Bill Barton
Rear Commodore
Karen Burkhard
Commodore
David Wilson
Vice Commodore
Holly French
Treasurer
Gail Rickles
Secretary
Bill Barton
Rear Commodore
Bill Barton
Commodore
Karen Burkhard
Vice Commodore
Wylie Grabisch
Rear Commodore
Wylie Grabisch
Commodore
Bill Barton
Vice Commodore
Dick Schweiger
Rear Commodore
Dick Schweiger
Commodore
Wylie Grabisch
Vice Commodore
Laurie Raymond
Treasurer
Michelle Ashmore
Secretary
Kathy Kershner
Rear Commodore
Kathy Kershner
Commodore
Dick Schweiger
Vice Commodore
Barb Chiapuzio
Treasurer
Bronson Potter
Secretary
Roger Herndon
Rear Commodore
Roger Herndon
Commodore
Fred Croydon
Vice Commodore
Kathy Kershner
Secretary
Lloyd Clemans
Rear Commodore
Lloyd Clemans
Commodore
Roger Herndon
Vice Commodore
Cindy Scott
Secretary