Who We Are
The Oregon Corinthian Sailing Association (OCSA), established in 1958 and later incorporated in 1975, is an independent non-profit organization whose purpose is to encourage and promote sailing events, with an emphasis on racing. OCSA's all-volunteer Board comprises representatives from yacht clubs of northwest Oregon and southwest Washington, who together plan the annual Race Calendar, and publish the OCSA Racebook and Course Charts. OCSA also develops race management skills by providing instruction for race conduct and management, and works toward better community awareness of sailing, water safety and the appreciation of sailing as a sport.
OCSA members are exposed to a variety of activities to suit their sailing interests, and receive the OCSA Racebook, OCSA Course Charts, special notices and discounts, and event invitations. For more information, please contact a Board Officer.
LETTER FROM THE COMMODORE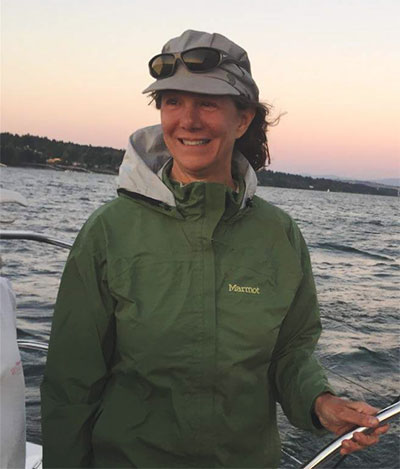 Welcome, Fellow Racers!2016 might be viewed as the year of consolidation, with SYSCO successfully running all three summer race series, the inclusion of both Willamette Sailing Club and Island Sailing Club into the OCSA Board, and the union of the two year-end racing awards' ceremonies into one.
2017 is shaping up to be the year of education, with a jam-packed schedule of learning opportunities. At one end of the spectrum is a free introduction to the basics of racing with SYSCO's race clinic. At the other end, OCSA will be sponsoring a US Sailing Judge seminar and PRO seminar for experienced racers – thanks to Craig Daniels for making that happen.
Other exciting opportunities:
Every four years, ISAF upgrades to the Racing Rules of Sailing and the changes/nuances must be learned. Also sponsored by OCSA, the internationally-known (and very entertaining) Dave Perry will return to Portland for a Mock Protest on a Friday night, followed by a full-day seminar on Saturday. Dave's many impressive accomplishments include Rules Advisor to both the U.S. Olympic Sailing Team in 2008 and 2012, and to Artemis Racing in 2012-2013
The Sailing Foundation will offer a local 2-day Safety at Sea seminar, which meets international racing safety requirements for five years
North Sails/Wyckam's, Kerry Poe, will teach sail repair – learn from the pro!
OCSA will provide a free Race Management clinic with seasoned Principal Race Officer, Rich Jones, and
OWSA offers a range of classes
Take full advantage of these great educational opportunities and more! Details are available on the Event Notice Board and club websites – do sign up early.
Finally, I want to extend a heart-felt thank you to the other OCSA flag officers – Jeanine Hohn (Vice Commodore), Mary Hartel (Secretary) and Steve Moshofsky (Treasurer) – as well as the Board representatives from the many local sailing clubs. None of this would be possible without your valued input and generous volunteer-hours.
See you out on the water – after all, that's what this is all about.
Be fast, be safe, have fun!
Cheers,
Nicole Sirois
OCSA Commodore, 2017
OFFICERS
PAST BOARD MEMBERS
Click on a year to show officers from that year
Gary Bruner
Commodore
Nicole Sirois
Vice Commodore
Steve Moshofsky
Treasurer
Mary Hartel
Secretary
Rich Calnon
Rear Commodore
Rich Calnon
Commodore
Gary Bruner
Vice Commodore
Alan Bergen
Treasurer
Mary Hartel
Secretary
Anna Campagna
Rear Commodore
Anna Campagna
Commodore
Rich Calnon
Vice Commodore
Alan Bergen
Treasurer
Nancy Marshall
Secretary
Jeanine Hohn
Rear Commodore
Jeanine Hohn
Commodore
Anna Campagna
Vice Commodore
Alan Bergen
Treasurer
Nancy Marshall
Secretary
Kimberly Rimkus
Rear Commodore
Kimberly Rimkus
Commodore
Jeanine Hohn
Vice Commodore
Ailona Dundore
Treasurer
Mary Stainsby
Secretary
Mark McCuddy
Rear Commodore
Kimberly Rimkus
Commodore
Ailona Dundore
Treasurer
Mark McCuddy
Rear Commodore
Mark McCuddy
Commodore
Kimberly Rimkus
Vice Commodore
Ailona Dundore
Treasurer
Robert Neild
Secretary
Victoria & Timm Lessley
Rear Commodore
Mark McCuddy
Commodore
Kimberly Rimkus
Vice Commodore
Craig Daniels
Treasurer
Alice Patten
Secretary
Victoria & Timm Lessley
Rear Commodore
Victoria & Timm Lessley
Commodore
Mark McCuddy
Vice Commodore
Craig Daniels
Treasurer
Alice Patten
Secretary
Victoria & Timm Lessley
Commodore
George Yioulos
Vice Commodore
Jill Dahlstrom
Treasurer
Alice Patten
Secretary
Scott Wirs
Rear Commodore
Scott Wirs
Commodore
Stephen Estes
Vice Commodore
Diane Curtis
Secretary
Rob Waldron
Rear Commodore
Bob Waldron
Commodore
Scott Wirs
Vice Commodore
Stephen Estes
Treasurer
Diane Curtis
Secretary
Al Calcagno
Rear Commodore
Al Calcagno
Commodore
Bob Waldron
Vice Commodore
Stephen Estes
Treasurer
Marcie Fitzhugh
Secretary
Jeff Duvall
Rear Commodore
Jeff Duvall
Commodore
Al Calcagno
Vice Commodore
Mark McCuddy
Treasurer
Erika Packer
Secretary
Frank Colistro
Rear Commodore
Frank Colistro
Commodore
Jeff Duvall
Vice Commodore
Mark McCuddy
Treasurer
Erika Packer
Secretary
Nancy Kirk
Rear Commodore
Nancy Kirk
Commodore
Frank Colistro
Vice Commodore
Mark McCuddy
Treasurer
Erika Packer
Secretary
Dale Waagmeester
Rear Commodore
Dale Waagmeester
Commodore
Nancy Kirk
Vice Commodore
Joe Ellertson
Treasurer
Jacki McLaughlin
Secretary
Mark McPherson
Rear Commodore
Mark McPherson
Commodore
Dale Waagmeester
Vice Commodore
Joe Ellertson
Treasurer
Nancy Kirk
Secretary
Mike McNaughton
Rear Commodore
Mike McNaughton
Commodore
Mark McPherson
Vice Commodore
Arden Newbrook
Rear Commodore
Arden Newbrook
Commodore
Mike McNaughton
Vice Commodore
Nancy Rander
Treasurer
Patsy Fischer
Secretary
David Wilson
Rear Commodore
David Wilson
Commodore
Arden Newbrook
Vice Commodore
Holly French
Treasurer
Gale Marple
Secretary
Karen Owings
Rear Commodore
Karen Owings
Commodore
David Wilson
Vice Commodore
Holly French
Treasurer
Gale Marple
Secretary
Bill Barton
Rear Commodore
Karen Burkhard
Commodore
David Wilson
Vice Commodore
Holly French
Treasurer
Gail Rickles
Secretary
Bill Barton
Rear Commodore
Bill Barton
Commodore
Karen Burkhard
Vice Commodore
Wylie Grabisch
Rear Commodore
Wylie Grabisch
Commodore
Bill Barton
Vice Commodore
Dick Schweiger
Rear Commodore
Dick Schweiger
Commodore
Wylie Grabisch
Vice Commodore
Laurie Raymond
Treasurer
Michelle Ashmore
Secretary
Kathy Kershner
Rear Commodore
Kathy Kershner
Commodore
Dick Schweiger
Vice Commodore
Barb Chiapuzio
Treasurer
Bronson Potter
Secretary
Roger Herndon
Rear Commodore
Roger Herndon
Commodore
Fred Croydon
Vice Commodore
Kathy Kershner
Secretary
Lloyd Clemans
Rear Commodore
Lloyd Clemans
Commodore
Roger Herndon
Vice Commodore
Cindy Scott
Secretary