Sailing Instruction
American Sailing Association (ASA)
Youth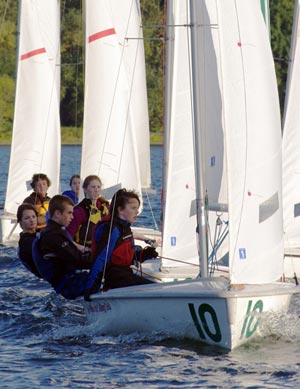 WSC JUNIOR RACING PROGRAM
www.WillametteSailingClub.com/Youth-Programs
Willamette Sailing Club offers the only junior racing program in the Portland area with around 80 sailors from ages 7-18. The WSC Junior Race Program offers local youth a chance to improve their sailing, racing, and teamwork skills under the guidance of expert coaches. In addition to weekday practice on the Willamette River, kids have an opportunity to compete against other junior sailors in venues throughout the Northwest and Pacific Coast at weekend regattas. Willamette Sailing Club provides boats and US Sailing Certified coaching staff. Sailors aged 7-12 practice and compete in single-handed Optimists. High School aged sailors practice and compete in single-handed Lasers or double-handed Club 420s. High school-aged sailors with  extensive racing experience are also eligible to compete with our new 29er skiff race team, which practices out of McCuddy's Marina on the Columbia River
Parents share in the volunteer duties at weekly practices and weekend regattas. Previous sailing experience is not  required, but participants must be able to swim, commit to regular practices, and provide their own life jackets and cold weather clothing.
The Spring 2016 season is February through May for High School Sailing and March through June for Optimist and Laser Race Teams. Practices are two or three days a week after school at Willamette Sailing Club. Summer season is
June, July, and August. Fall season is September and October.
FOR MORE INFORMATION: Including how to register, call WSC (503-246-5345) or visit the club's website.
---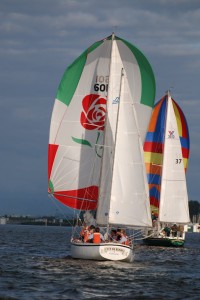 SEA SCOUTS
www.sss601.org
The Sea Scouts were established in the US in 1912, following the form of the original British program. The original concept of Sea Scouting was to prepare young men for service in the Navy. Today, Sea Scouts is a young-adult oriented program open to men and women between 14 and 18. The program is structured so that young-adults may gain insight into a variety of programs offering leadership, fitness, outdoor activities, service to the community, social interaction, and career building skills. Sea Scouts is experiential learning with lots of fun-filled, hands-on activities promoting the conditions necessary for the growth and development of adolescent youth.
Sea Scout units are called "ships," even though they might not actually meet and train aboard their vessel. There are active Sea Scout Ships throughout the country, though most are concentrated in metropolitan areas near the coastline. Sea Scout Ship 601, "City of Roses" is one of the oldest Sea Scout Ships in the Nation. Based in Portland, the unit was originally named "Viking" and has been continuously active since 1929. The name was changed to "City of Roses" in 1939 in honor of the ship's home port.
The Ship has two training vessels. The 29-foot ketch rigged Cascade sailboat named "City of Roses" was built from a kit by unit members in 1973. It has no auxiliary power and must be sailed or rowed by pulling four 13-foot oars. The other training vessel is former US Coast Guard 44-ft motor lifeboat (MLB) 44372 acquired in 1998. Though in need of major mechanical repairs, including a complete rebuild of one engine, the boat was made operational by unit members in 1999 and has been used ever since for underway training. Ship 601 tries to make their program as hands-on as possible. The goal is to get a boat underway at least 4 times a month. In addition to underway training the unit also participates in training with the USCG that has included incident preparedness, damage control, cold water survival, and the use of pyrotechnics. Meetings are run by the crew with guidance from the adults. Most of the vessel maintenance is done by the crew with the exception of those too dangerous for them to perform; truly a hands-on program.
The vessels are moored at the R.A. Rasmusen Sea Scout Base, near the Airport. The base is also home to eight other local Sea Scout ships, including "Voyager" which is also a former USCG 44-foot MLB and has an all women crew. In addition to serving as a home port for Portland area ships, the base is also a cruise destination and supply point for three other ships in outlying areas.
If you want to join, or just want to find out more, contact Pat Kelley, Committee Chairman 503-667-7835. We will be more than happy to answer any questions you may have and to arrange for a tour of our facilities.
THE UNIT MAINTAINS A WEB SITE AT: WWW.SSS601.ORG
THE OFFICIAL SITE FOR SEA SCOUTS IS: WWW.SEASCOUT.ORG
---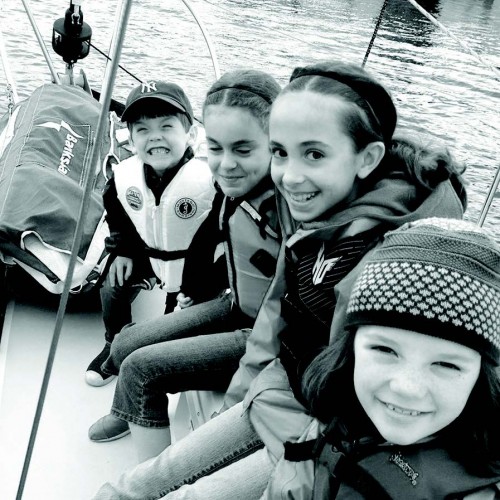 PYC Youth Sailing Scholarship Fund
The mission and purpose of the Portland Yacht Club Youth Sailing Scholarship fund is to provide scholarship money to encourage and assist young people to take junior sailing lessons in the greater Portland area If you know of someone that would like to get their kids out on the water we'd like to help! We offer scholarship money for lessons at the Willamette Sailing Club or Vancouver Lake Sailing Club.
For more information email pycyouthsailing@portlandyc.com
---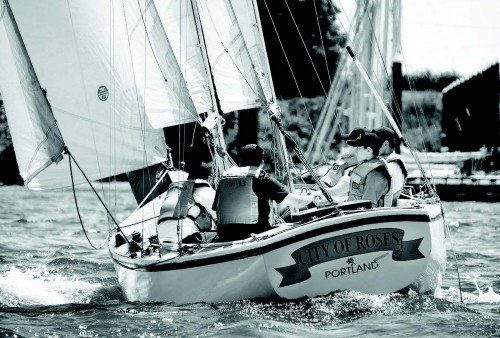 Rose City Youth Sailing Society
Rose City Youth Sailing Society (RCYSS) is a non-profit that builds relationships with local sailing clubs, and coordinates efforts among the sailing community to further promote youth sailing. RCYSS helps Willamette Sailing school and Vancouver Lake sailing school maintain and purchase equipment as well as provide financial aid and discounted tuition. It's easy to get financial help! Just fill out the application found on the brochure two weeks before a class and email it in.
Want to help? Your gifts support young people whose inventiveness and passions determine our future. Any gift you can make is tax-deductible, and goes directly to help sustain junior sailing.Please mail any gift amount (or increase your donation) to:
RCYSS
c/o RCYC
3737 NE Marine Dr.
Portland, OR 97211
Attention: Youth Sailing
For information visit www.rosecityyachtclub.org/rcyss or email rosecityyss@gmail.com. RCYSS is a wholly independent entity.
College Programs
College sailing began on an informal, club basis in the 1890's, and organized racing started in 1928. It has grown to include more than 200 active colleges, and racing now occurs on every weekend during fall and spring seasons and on many weekends during the winter. It is a truly coeducational sport, and it has proved itself the best incubator for the development of racing skills. Former college sailors have always numbered significantly among Olympic medalists and America's Cup competitors. College Sailing is growing throughout the Northwest. Information on a national and regional level, as well as contact information for each school, can be found at the college sailing web sites listed below.
The list of prospective new members ranges from small private schools in Portland, to schools at the southern edge of the state. College sailing programs are funded by your donations. Team captains can provide Gift Giving information.
FOR MORE INFORMATION
http://www.collegesailing.org
http://www.collegesailing.org/nwicsa